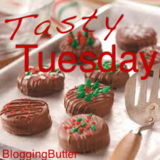 For this tasty link up I'm going to share with you a recipe I have not had the guts to try. I finally just got the recipe from my mom, and I'm thinking about trying it some time soon.
This is the recipe for
Papa Sliker's NY Style Cheesecake
That would be the cheesecake mentioned in my post
Where are my tears?
The incredibly awesome makings of my late Papa "Slyke."
It was one of the best cheesecakes in the world. When I was young, I didn't realize the cheesecake was his. It was lined up along the table with the cakes and other deserts, so I always thought it was Grammy's.
When I found out it was his, I was in love with the fact that he could bake. It may have been the only thing he could bake, but it was awesome seeing Papa in the kitchen.
Anyway, you get the option of baking this before I even attempt to!
Here are the ingredients:
4 large cream cheese
2 16-ounce sour cream
1 Tbsp. vanilla
6 eggs
2 cups sugar
Instructions:

Soften cream cheese (do not microwave). Add sugar gradually to cream cheese and beat til light n fluffy. Add eggs one at a time, beating after each egg addition. Add sour cream and vanilla. Beat until smooth. Pre-heat oven to 350. Pour mix into springform 10" pan after putting in graham cracker crust (see recipe below). Bake until lightly brown, about 50-60 minutes. DO NOT open oven (he meant this). Let cool in oven at least 3 hours.
Graham Cracker Crust:

1 3/4 cup crumbs
1/3 cup melted butter
1/4 cup sugar
(Make first and refrigerate while you're making the cheesecake)

Press into springform pan and a little up the sides using back of tablespoon. Pour in cheesecake batter and bake.
I hope you enjoy this cheesecake recipe as much as I did growing up! Maybe it can be one of those "special recipe's" for your family as well.
If you try it, let me know how it turns out!
And if you want to share a Tasty Tuesday recipe, link up with us!