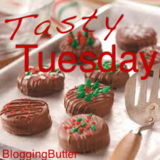 Today my tasty little snack is so easy.
Chocolate dipped pita chips.
yumm
These little snacks are perfect for when you are having a few friends over, a cute, semi-formal little get together, taking snacks to church, etc.
They are typically served as a garnish on ice cream or fruit. (ice cream is my choice)
your favorite chocolate bar

Stacy's

®

Cinnamon Sugar Pita Chips

And ice cream or fresh fruit, or whatever you so choose to garnish.
Instructions:
Melt chocolate in double boiler or microwave. Dip the pita chip about 1/3 of the way into the chocolate. Place the chip on wax paper and put in the freezer until hardened. (about 15 minutes.)
And Waddabing! You got yourself a fancy little garnish with almost no effort.
I know, you can thank me later.
And now I present to you, my Tasty Tuesday Linky! It's a little late notice, but I hope you can join me and give us some blogs to hop!