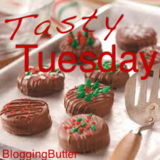 A

lright guys! It's Tasty Tuesday!
You know what that means!
wait, what am I thinking, no you don't.
I want to share with you my absolute favorite "snack recipes."
I know in the about me it says on this blog you'll only find a recipe for disaster. But these are so simple and easy that even I can make these treats without it ending in disaster.
So in return, I want you to share your absolute favorite treat recipes with me.
You can share your favorite recipe as your blog post and spread the Tasty Tuesday love. The Tasty Tuesday button will bring you right back to this post. Then you can leave a comment on my blog with your link and what recipe you are sharing so I can check it out.
If you don't have a blog, you can e-mail me your favorite recipe and I will post it on Tasty Tuesdays.
The very first treat I want to share is probably the easiest thing I know how to make. It's also one of the best tasting and low cost.
Ingredients:
Bag of round or square pretzels
Bag of Rolo candies
Bag of pecan halves
White chocolate squares or chips, melted with a little Crisco added in

Directions:
Place pretzels flat on a baking pan. Place one candy rolo on the middle of each pretzel. Bake 3-5 minutes at 300 degrees. Pull out of oven. Place pecan half on top of each snack and press down on hot Rolo. Rolo will melt into pretzel. Drizzle with melted white chocolate.
My mom taught me how to make these over Christmas. We made them for my siblings graduation party, for Christmas and for the New Years Eve Party, because they are
just that good.